Transform Your Team
Leadership Acceleration Program
LEAP® is a 12-month transformational leadership development program. Since 2002, LEAP® has forged confident, capable leaders and equipped them to face today's complex challenges. Research has shown high impact leaders directly influence a team's success.
See The Next LEAP Event Date
LEAP® is for aspiring and accomplished, emerging to mid-level managers and leaders who have a passion for leading, want to improve their effectiveness, and thrive in their organization.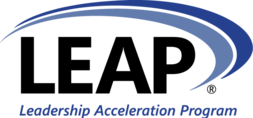 Development

Monthly half-day skill building workshops

Feedback

Personal 1:1 coaching and feedback

Motivation

Confidential peer interaction and learning

Insight

Individual and 360° leadership assessment

Real Challenges

Custom leadership development plan focused on a relevant project tied to organizational goals

Practice

Post classroom reinforcement – tools and support
Lead your team into the future with confidence
Excel with creative problem-solving skills
Attain the results you've been striving for
Proactively guide your team to success
Our graduates and sponsors have a lot to say about their experience and the results this program yields. Here are a few things you can expect:
Increase in awareness and confidence as leaders
More enjoyment mentoring others to success
Ability to leverage the strengths of others
Skills to transform conflict into positive learning and collaboration
Improve your ability to coach and attain higher performance
Reduced turnover
Increased sales
Higher productivity
Nic Munson

Operations Manager

anemptytextlline

Nancy is extremely insightful and intelligent. Her rich professional experience shines through in the most humbling of ways. She is understanding of our needs and flexible to our busy schedules. Nancy is an absolute pleasure to partner with!

Kevin Hayes

National Market Development

anemptytextlline

I have taken dozens of personal and professional assessments in my long career. The LEAP program surveys were by far the most revealing and insightful I have experienced. The real benefits surfaced as Nancy walked me through the results explaining the various nuances and how they pertain to my leadership style. She helped uncover communication strategies to use with customers, peers and fellow staffers. Altogether I highly recommend her program to anyone. She goes far beyond the assessments in delivering actionable recommendations.

Nancy Nieraeth

Director, Talent Acquisition & Development

anemptytextlline

Nancy Maki is a rare form of consultant, an experienced practitioner with broad expertise who isn't content to use her toolkit in the accustomed ways. Her background in human development and her deep listening approach ensure she and the Open Gate team are delivering workable solutions finely tuned to address your specific business concerns. Don't let Nancy's unflappable demeanor fool you—while her great respect for human beings in the world of work is unsurpassed, the leader's needs for accountability, productivity, and effectiveness are foundational to her practice. Working with her, you'll get the "people stuff" done right while achieving the outcomes you require.

Christian Renner

Senior Compensation Consultant

anemptytextlline

I personally have worked with Nancy Maki directly on many high level, confidential, and very sensitive projects. I have found her to be an excellent partner, who gives sound, useful recommendations and direction and cannot sing her praises high enough. She is bright, knowledgeable, thoughtful, and innovative. I recommend that if you get the chance to partner or work with her, you will not be disappointed. She deserves my highest regards.

Mike Sotelo

CEO

anemptytextlline

It's the best money I have ever spent on anything in my company!

Scott Currier

Logistics Director

anemptytextlline

Every leader should go through LEAP! It's a self-centering experience with an awareness of your surroundings.

Bob Oates

CEO

anemptytextlline

The investment in my employees and the LEAP program builds trust and loyalty in the company.

Max Mankin

Co-Founder/CTO

anemptytextlline

The attention to concrete objectives and measurable outcomes is refreshing.  This fact is especially true when we consider how to develop our people.  In an inherently difficult to measure process, Nancy brings a thorough, thoughtful approach that we will tap again and again as our company grows.

Kirk Balin

Regional Vice President

anemptytextlline

If you want to find a consultant who knows and understands business – call Nancy. Her methodical and logical approach brings a level of objectivity to her consultations that is unmatched. At the same time, her knowledge and skill in dealing with the human side of business completes the picture. Your team will exceed their goals.

Yong Sun

Product Manager

anemptytextlline

…Nancy impressed me as a TRUE professional. After my first conversation with her. The following was what I had written down on my notes: "It seems to me, Nancy finished her introduction, stated her objectives, emphasized the confidentiality, and informed me about the process, even scheduled the next meeting time/place, all within 30 minutes or so. Everything was done in a smooth and relatively slow pace, yet with absolute clarity. She emphasized wherever need to be emphasized, went over non-essential part in fast pace. Throughout her conversation, she was always calm and re-assuring. She used a lot of "we" and called me by the name whenever she wanted my attention." From then on, I was hooked with the coaching sessions. It felt like I had just discovered a new continent. I learned to become aware of my emotions, learned to pay attention to my bad habits (e.g. short eye contact, raising voice, use of "I" and "you"), and learned to hold my thoughts for more appropriate occasions. Working with Nancy was like a breeze, she'd guide me not by leading, but by walking alongside; she pointed out places for improvement by letting myself analyze and discover the root cause; she also gave me insights of certain situation by offering alternative views. Over all, I went through 5 coaching sessions with Nancy. She was always well-prepared. Working with her felt like combing through the entangled mess of my own thoughts. She had the magic ability to connect with you, to sympathize with your situation, and to let you find your way out. I strongly recommend Nancy for anyone who is looking to improve his/her ability in communication/management.
Let's talk about you.
Email or give us a call to schedule a consultation.